RFIDsecur™ film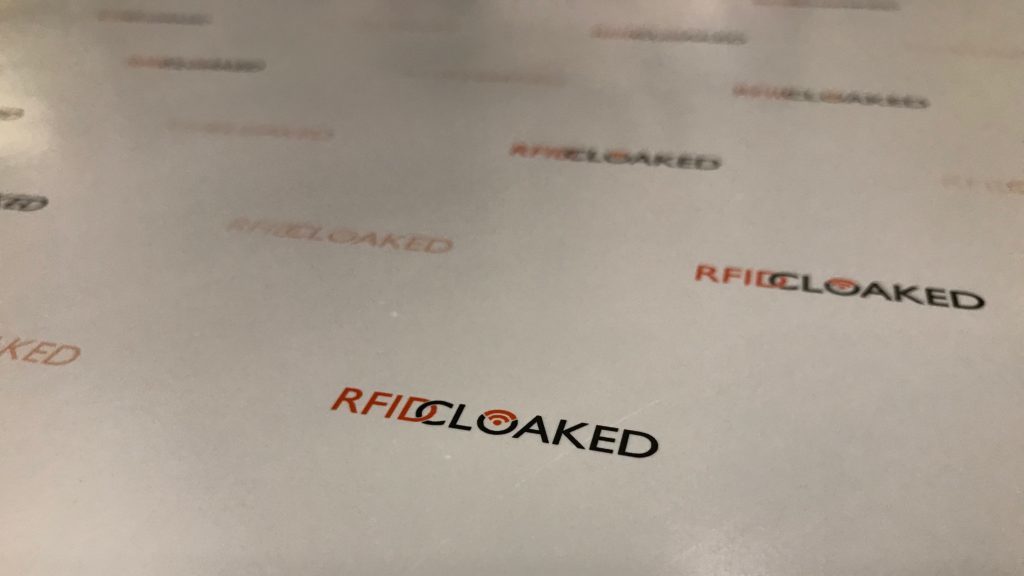 Protecting, shielding and blocking RFID, NFC, contactless payment and security passes using our RFID blocking fabric, for 13.56Mhz and 125Khz industry standard frequencies.
Our RFID, NFC and contactless shielding film, can be used for, but not limited to RFID blocking cards, contactless payment, NFC cards, passport protectors and ID security passes .
Manufactured as a composite film our RFIDsecur™ blocking/shielding film utilises a specialist polymer alloy and superior High-density polyethylene (HDPE) high strength film.
Effective blocking of radio frequencies:  100Khz, 125Khz/134Khz, 13.56Mhz, 433Mhz, 868Mhz, 915Mhz, 2.4Ghz, 3Ghz and 4Ghz signals.
Electromagnetic shielding blocks RFID, NFC, Contactless, Bluetooth
RFID blocking fabric
RFIDsecur™ can be stitched and or stapled for manufacturing in a vast array of applications. It can be used with fabrics stitched for manufacturing purposes. If creased or crushed and bent the RFID blocking fabric will still block signals. The film can be supplied with or without a coating for printing HP Indigo digital printers.
Supplied either in roll form or sheeted standard widths or standard paper sizes (B series and SRA range).
Samples and pricing are available on request.
High-density polyethylene (HDPE)
High strength film offers unparalleled strength, tear resistance, puncture and burst resistance. Manufactured using a unique high-strength oriented cross-laminated polyethylene has the highest strength-to-thickness ration of any competitive synthetic. Manufacturers can stitch or staple RFIDsecur™ film into many applications.
Properties include:
Can be die cut and perforated on press, folded, embossed, punched, stapled or stitched
Controlled shrinkage
Thermal dimensional stability

Cold temperate resistant down to -21˚C
Withstand heat up to +93°C

High weather resistance and performance in harsh environments
Puncture and burst resistant
Resists cold, water, snow, chemicals & oil resistant
Barrier against chemicals,  water and moisture (i.e, waterproof)
Indoor and outdoor use
Printable, HP Indigo, flexo, offset, screen printed or thermal transfer printed (ANSI A Scans)
Good ink adhesion – Non-smearing
For more information on High-density polyethylene (HDPE)
Wikipedia