Want to make a simple RFID blocking case? Wondering how to make an RFID blocker? Use this quick guide!  This case will help you ensure the security of your contactless cards.
To prevent the theft of data or money, you need to create a shield that protects your contactless cards from being read by RFID scanners.  A shield works by blocking the propagation of electromagnetic waves, which prevents the interaction of an RFID reader with your cards. The RFID reader will not be able to read your cards while they are inside the case with RFID blocking.
What you need to make an RFID blocker
To make an effective RFID blocker, you will need the following materials:
textile for the front part;
fabric for lining;
office supplies (glue, scissors, awl, pen, ruler);
a thin sheet of RFID blocking material, for example, this material.
To prevent RFID reading, you will need a layer of special material.  We do not recommend using foil, it is not intended for shielding and will not be totally effective, we wrote about this in detail in this article.  As a basis, you can use a cloth that does not crumble and has a margin of safety.  For the outer cover, it is advisable to use a robust material like leatherette. A plastic cover from an office folder would also do.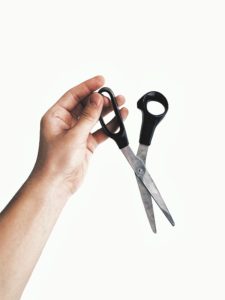 Stages of manufacturing the cover
You need to cut two identical rectangles of leather, plastic or other material 9.5 cm by 7 cm each;
Prepare another pair of similar parts from the inner material and RFID blocking material;
Put the three layers together and glue them.  Allow the glue to dry;
Sew the three layers together at a distance of 1-1,5 mm from the edge on three of the four sides.
As a result, you should get a reliable case.  By the way, scammers can scan the credit card style keys for cars as well. This case works great with those too!
'If you do not have enough time to make your own RFID blocking card holder, you can simply buy an RFID card blocking wallet or RFID blocking card to protect your important information from NFC technologies. After all, it is better to prevent unauthorised card scanning than to regret not protecting yourself.
Products from the article